Resource Estimate
Initial Mineral Resource Calculation
Silver Viper has defined a mineral resource estimate at La Virginia comprising 154,000 oz gold and 6,930,000 oz Silver in the Indicated Category, and 260,000 oz gold and 12,940,000 oz Silver in the inferred category with tonnages and grades presented below. This resource is equivalent to 17,730,000 oz silver equivalent and 31,116,000 oz silver equivalent using a gold:silver price ratio of 1:70.
On May 3rd, 2021 Silver Viper announced the results of the initial mineral resource calculation, the first of its kind at La Virginia. A technical report prepared to the requirements of NI 43-101 is complete and will be filed within 45 days of the announcement date.
Area
Type
Class
Cut-off ($US)
Tonnes
Au Grade (g/t)

Contained Gold (oz)

Ag Grade (g/t)
Contained Silver (oz)
El Rubi
Near Surface
Indicated
20
6,179,000
0.78
154,300
35
6,929,000
Inferred
3,255,000
0.90
94,100
36
3,750,000
Virginia
Near Surface
Inferred
20
6,622,000
0.71
152,200
41
8,739,800
Underground
Inferred
100
227,000
1.92
14,000
62
451,500
Total
Indicated
6,179,000
0.78
154,300
35
6,929,000
Total
Inferred
10,104,000
0.80
260,300
40
12,941,300
Mineral Resources which are not Mineral Reserves do not have demonstrated economic viability.
The estimate of Mineral Resources may be materially affected by environmental, permitting, legal, title, taxation, socio-political, marketing, or other relevant issues.
Mineral resources are reported at $US20 equivalent for open pit and $US100 for underground. The dollar equivalent is based on $US 1,650 per ounce of gold and $US 22 per ounce of silver assuming recoveries of 94% for gold and 90% for silver.
The Inferred Mineral Resource in this estimate has a lower level of confidence than that applied to an Indicated Mineral Resource and must not be converted to a Mineral Reserve. It is reasonably expected that the majority of the Inferred Mineral Resource could be upgraded to an Indicated Mineral Resource with continued exploration.
The Mineral Resources in this report were estimated using the 2014 Canadian Institute of Mining, Metallurgy and Petroleum (CIM), CIM Standards on Mineral Resources and Reserves, Definitions and Guidelines prepared by the CIM Standing Committee on Reserve Definitions and adopted by the CIM Council.
The mineral resource model was calculated using drilling data generated by Silver Viper and previous operators, and includes two main areas along the mineralized trend, "El Rubi" and "Virginia". El Rubi resource represents the focus of Silver Viper's drilling efforts since 2019 and includes indicated and inferred categories. The Inferred category Virginia resource includes four deposits along a roughly 3.2 kilometres stretch of the mineralized trend.
The Mineral Resources for the La Virginia Project are reported in accordance with the guidelines of the Canadian Securities Administrators National Instrument 43-101; and have been estimated in conformity with generally accepted CIM "Estimation and Mineral Resource and Mineral Reserve Best Practices" guidelines. It should be noted that mineral resources are not mineral reserves and do not have demonstrated economic viability.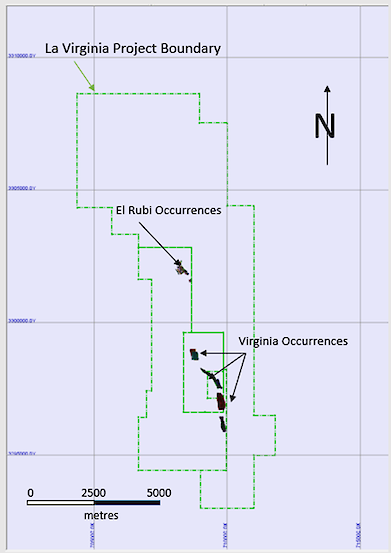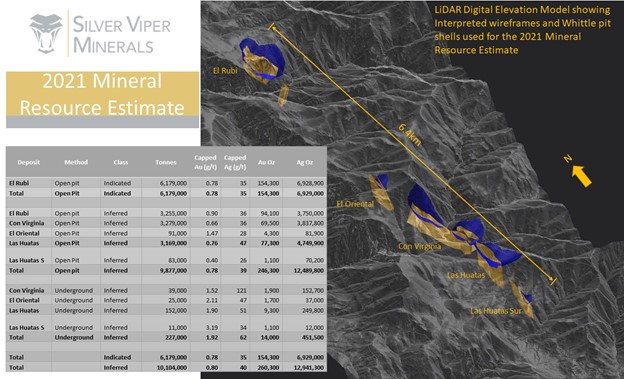 Summary of the Resource showing relative locations of El Rubi and the La Virginia deposits