Videos
Follow us on YouTube for instant video updates here.

Silver Falls As Market Still Await The End of Rate Hikes

Sub-$30 Silver Is Continuing To Restrict Future Production

Silver Price Falls Again, But Supply Gap Remains Unresolved

Silver Price Decline Is Not Helping Supply Gap

We're Losing The Primary Silver Miners | Arcadia Economics

SILVER VIPER MINERALS CORP. | Red Cloud Pre-PDAC 2023

Silver Viper Minerals eyes new resource at La Virginia silver-gold target

Silver Viper Releases La Virginia Geophysical and Geochemical Survey Results

Would you believe silver is almost back to even on the year?!

Silver Viper announces $2 million financing for Canasil deal

Silver Viper announces letter of intent for proposed acquisition

Silver Viper Minerals | Red Cloud's Fall Mining Showcase 2022

Arcadia Economics - Silver Viper enters letter of intent to acquire Canasil Resources

London South East Investor Webinar

Arcadia Economics - Has silver passed the breakpoint of no return? (March 9, 2022)

Silver Viper Minerals - Red Cloud 2022 Pre-PDAC Mining Showcase (March 6, 2022)

DIGGING DEEPER: featuring Silver Viper Minerals and Trillium Gold. (December 1, 2021)

Belcarra Group Management Ltd NOIC 2021 Presentation (November 9, 2021)

Silver Viper Minerals Corp. - Red Cloud Oktoberfest 2021 (October 19, 2021)

Silver Viper Minerals Webinar Replay hosted by Red Cloud (October 5, 2021)

Silver Viper Minerals Webinar Replay hosted by Amvest Capital (September 22, 2021)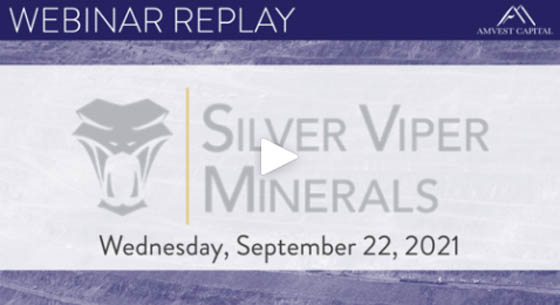 Silver Prices Recovering from June Short Covering in Preparation for Basel 3 (July 2, 2021)

La Virginia Silver-Gold Maiden Resource Overview (June 22, 2021)

Silver Viper Minerals - Red Cloud 2021 Summer Silver Conference (June 17, 2021)

Metals Investor Forum- Virtual Silver Investor Forum (June 15, 2021)

Silver Viper Minerals Corp Webinar hosted by Amvest Capital (May 4, 2021)

Silver Viper Minerals Webinar Replay (May 5, 2021)

Silver Viper Minerals Corp Live Webinar (Mar 12, 2021)

Soar Financial Online

Investor Alert: Silver Viper – Drill Hole Intercepts Highest Silver & Gold Grades to Date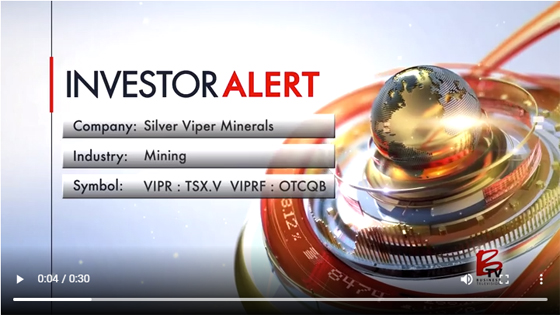 Silver update: CFTC to hold public meeting on Thursday

Silver Viper, Red Cloud 2021 Pre-PDAC Mining Showcase

Silver Viper Minerals CEO: The El Rubie Structure - "One of the Best Assays in Precious Metals"

Peter Krauth talks to Steve Cope of Silver Viper Minerals at the Feb. 2021 Silver Investor Forum

Steve Cope of Silver Viper Minerals presents at the Virtual Silver Investor Forum (February 11, 2021)

Why Is The Silver Price Still 50% Below Its 1980 High (While Gold Has More Than Doubled)

StreetSmart Live! Presents Frank Holmes' Virtual Junior Mining Expo

Silver Viper Minerals - Oktoberfest 2020

Denver Gold Group Conference


Red Cloud Summer Silver Conference