La Virginia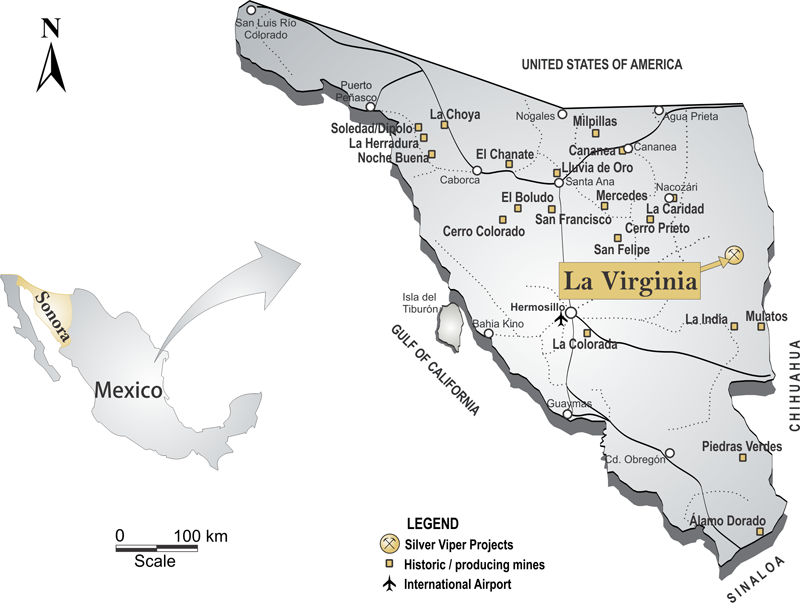 OVERVIEW
La Virginia is located in mountainous terrain 220km east-northeast of Hermosillo within the Sierra Madre Occidental, Sonora State, Mexico. The centre of the project sits 100km north-northwest of Dolores Gold-Silver operation and 90km south-southeast of El Tigre Gold-Silver operation.
The project hosts low-sulphidation epithermal-style gold-silver in quartz stockworks, veins and hydrothermal breccias strongly controlled by the regional north-northwest trend. Mineralization is found within intermediate volcanics, and pre-mineral, dacite-rhyodacite dykes emplaced along the regional structures. The structures are laterally extensive and often conspicuous due to the erosion resistant nature of the coincident dykes. Work to date has identified anomalous gold and silver mineralization over many kilometres. Historical underground workings indicate that mineralized zones within dilationary jogs or bends along the target structures can achieve true widths of up to 20 metres.
Silver Viper has signed an option agreement on Rubi-Esperanza and a Letter of Intent for 100% ownership over two groups of claims totaling 35,598 hectares covering some 40km of prospective strike. The Company is undertaking a due diligence campaign including field checks and review of drill core as it works to complete of Definitive Agreement for the surrounding La Virginia claim with Pan America.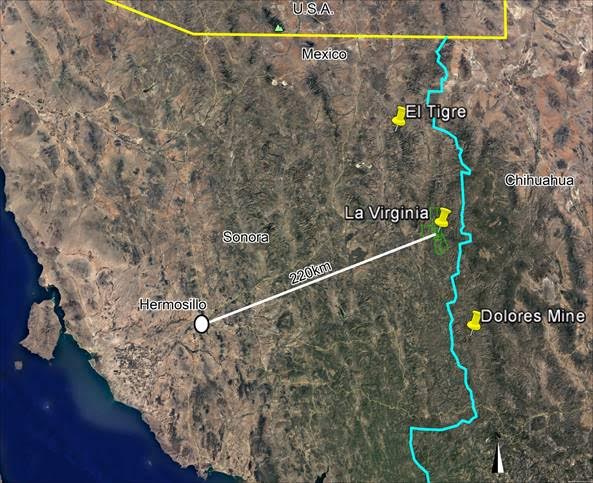 La Virginia Location – Google Earth image

La Virginia Project Claims Map Feb 2018.
EXPLORATION HISTORY & RESULTS
Silver Viper is currently reviewing the historical dataset, which includes exploration geochemistry, mapping and data from 188 diamond drillholes totaling 52,635.45 meters.
Small-scale underground mining was complete in several locations over the property during the 1970s and totals some 210m of development. No production records are available but the bulk of work was completed at two locations, the still accessible La Virginia and Con Virginia workings.
Following almost three decades of inactivity, Minefinders Corporation Ltd identified the potential of the area during a regional reconnaissance program during 2007. Work was undertaken in earnest between 2010 and 2012 during which time Minefinders completed 188 drillholes for a total of 52,635m. Exploration continued during the acquisition of Minefinders by Pan American Silver Corp in 2012. Pan American continued with the drilling in early 2012 and conducted some reconnaissance work over the exploration claims before pausing.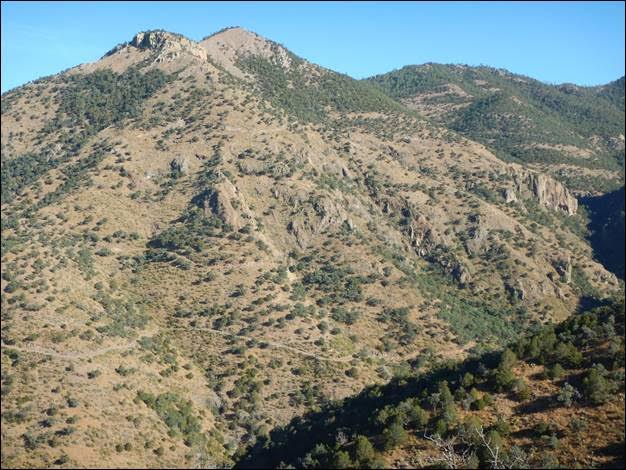 Con Virginia structure shown centre left, additional prospective structures seen to the right
The subsequent years saw central claims El Rubi, El Rubi Frac 1 and Esperanza returned to original claim owners. Silver Viper now seeks to restore the property into a single group of claims and is planning an exploration program to include definition and extension of known mineralized zones as well as evaluation and testing of regional targets.
Silver Viper has received the 2010-2012 drilling database and in the coming weeks will embark upon confirmation work including review of core stored at Pan American Silver's facility in Hermosillo. Publically available results reported by Minefinders include highly encouraging grades such as 23.5m grading 13.69g/t gold equivalent from hole LV11-47C and 15m averaging 6.14g/t gold equivalent from hole LV11-50C. (Minefinders Corp Ltd news release Oct 17 2011 – interval length in metres, estimated true widths were not disclosed, Au equivalent reportedly calculated using silver to gold ratio of 60:1). Preliminary investigation of the dataset indicates that a total of 188 drillholes were completed for a total depth of 52.635.45m.
GEOLOGY
La Virginia is situated in basin and range topography, the uplifted rocks of the escarpment expose intermediate volcanics, andesites, of the Lower Volcanic Sequence, common within the Sierra Madre. Rhyolite tuffs of the upper Volcanic Sequence cap some of the mountains in the target area, increasing frequency and thickness to the east.
Mineralization is characterized by epithermal style gold-silver in quartz stockworks, veins and hydrothermal breccias controlled by regional north-northwest trending structures. Veining/silicification is typically found within Lower Volcanic Sequence intermediate volcanics as well as dacite (to rhyodacite) dykes. The dykes pre-date mineralization and exploit the same regional structures, often forming low, relatively erosion resistant ridges which are conspicuous and extensive. Gold-silver mineralization is controlled by the north-northwest regional trend and anomalous geochemical results have been returned from these structures south to north for the length of the property.
Historical mining activities in the core claims, evidenced by several underground workings, are developed on zones of increased silica alteration and veining. The largest historical workings, "La Virginia" and "Con Virginia" are still accessible and host mineralization ranging between one metre to greater than twenty metres in thickness.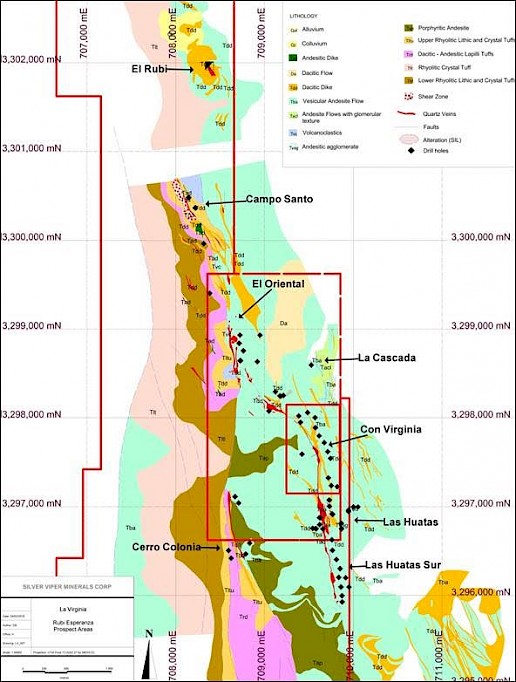 La Virginia Rubi Esperanza Project Areas
2018 EXPLORATION PLANS
Silver Viper is currently completing a review of existing data including a review of drill core and logging. Exploration plans for 2018 centre upon an aggressive regional exploration campaign of prospecting and surface geochemical sampling. Land owner consultation, environmental studies and drill permitting submissions will be completed concurrently. The company intends to commence drilling at the earliest opportunity.
Additional information and plans will be made available as Silver Viper completes its data review and field checks.
QUALIFIED PERSON, QA/QC & TECHNICAL DISCLOSURES
Dale Brittliffe, P. Geo., a qualified person to Silver Viper Minerals Corp. as defined by National Instrument 43-101 Standards of Disclosure for Mineral Projects, has reviewed and approved the preparation of this information.
Projects