Exploration
Silver Viper has reviewed the historical dataset, which includes exploration geochemistry, mapping and data from 188 diamond drillholes totaling 52,635.45 meters.
Small-scale underground mining was complete in several locations over the property during the 1970s and totals some 210m of development. No production records are available but the bulk of work was completed at two locations, the still accessible La Virginia and Con Virginia workings.
Following almost three decades of inactivity, Minefinders Corporation Ltd identified the potential of the area during a regional reconnaissance program during 2007. Work was undertaken in earnest between 2010 and 2012 during which time Minefinders completed 188 drillholes for a total of 52,635m. Exploration continued during the acquisition of Minefinders by Pan American Silver Corp in 2012. Pan American continued with the drilling in early 2012 and conducted some reconnaissance work over the exploration claims before pausing.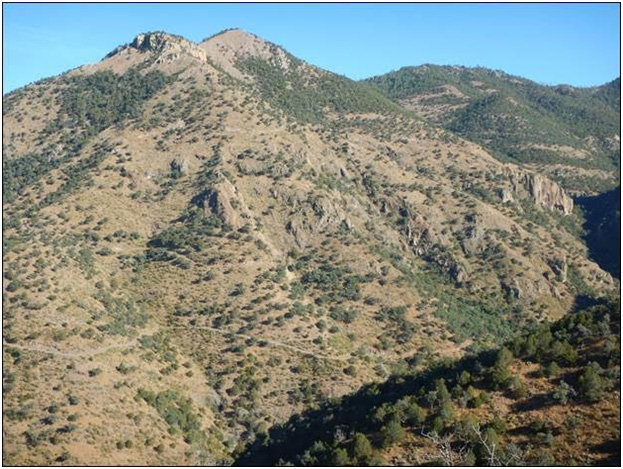 Con Virginia structure shown centre left, additional prospective structures seen to the right
The subsequent years saw central claims El Rubi, El Rubi Frac 1 and Esperanza returned to original claim owners. Silver Viper now seeks to restore the property into a single group of claims and has embarked upon an exploration program which includes definition and extension of known mineralized zones as well as evaluation and testing of regional targets.
Silver Viper has received the 2010-2012 drilling database and in the coming weeks will embark upon confirmation work including review of core stored at Pan American Silver's facility in Hermosillo. Publicly available results reported by Minefinders include highly encouraging grades such as 23.5m grading 13.69g/t gold equivalent from hole LV11-47C and 15m averaging 6.14g/t gold equivalent from hole LV11-50C. (Minefinders Corp Ltd news release Oct 17 2011 – interval length in metres, estimated true widths were not disclosed, Au equivalent reportedly calculated using silver to gold ratio of 60:1). Preliminary investigation of the dataset indicates that a total of 188 drill holes were completed for a total depth of 52.635.45m.
Silver Viper embarked upon a diamond drilling program in late September 2018, the program scheduled to continue until the Christmas break. Initial drilling centered upon the Las Huatas/Con Virginia area. In addition to confirmation style holes, the 2018 program also contains a large proportion of exploration holes designed to test for additional zones for mineralization along and parallel to known trends. Regional prospecting style surface work is also underway on the Pan American Silver claims expected to become part of the active project in the near future.
Silver Viper will release results in batches as the results are verified and integrated into the database.
Additional information and plans will be made available as Silver Viper completes its data review and field checks.